How Branding With Archetypes® Will Grow Your Business
What's the essential ingredient for a successful business launch? Spoiler alert: it's your brand. A clear brand is what's going to make the difference between launching to rapturous applause and the sound of crickets. Your branding has the power to lift you above the crowd to be noticed and remembered by your dream audience. Yet, like all things that have great potential, it's not always an easy process. Enter: branding with archetypes. Branding with archetypes can help you build your brand in a way that'll enable your business to grow and grow for years to come. Here's how.
What is branding?
Many business owners think that building a brand is simply a case of having a pretty logo designed. Whilst I love a nice logo just as much as the next person, your branding is so much more than that! Your brand is how you show off what makes you and your business so wonderfully unique. It's going to demonstrate the impact your work has on your clients and customers, whilst working day and night to attract the right people straight to you.
Branding isn't just visual, it's a magnetic feeling.
"Your brand is your promise to your customer. It tells them what they can expect from your products and services, and it differentiates your offering from that of your competitors. Your brand is derived from who you are, who you want to be and who people perceive you to be."

Entrepreneur.com
Your branding is a merging of numerous different elements to form one cohesive image for your audience.
Yes, it's visual but it's also about your brand values and what you stand for as a business. It incorporates your brand purpose and the impact that you want your business to have on the world. Then there's your brand positioning, and how you want your clients and customers to see you. Are you luxurious? Independent? Natural?
Those components then form the foundation of your tone of voice and brand messaging. They help you plan out your approach to marketing and communications, and they dictate your client or customer experience. Finally, this is all brought to life visually through your logo, fonts, colour palette, and design.
So yes, your brand involves a pretty logo. But it incorporates many other factors too! Hopefully, you're now starting to see how your branding influences every single aspect of your business. This means that, if you can get clear on your branding, the rest of your work is going to be so much easier.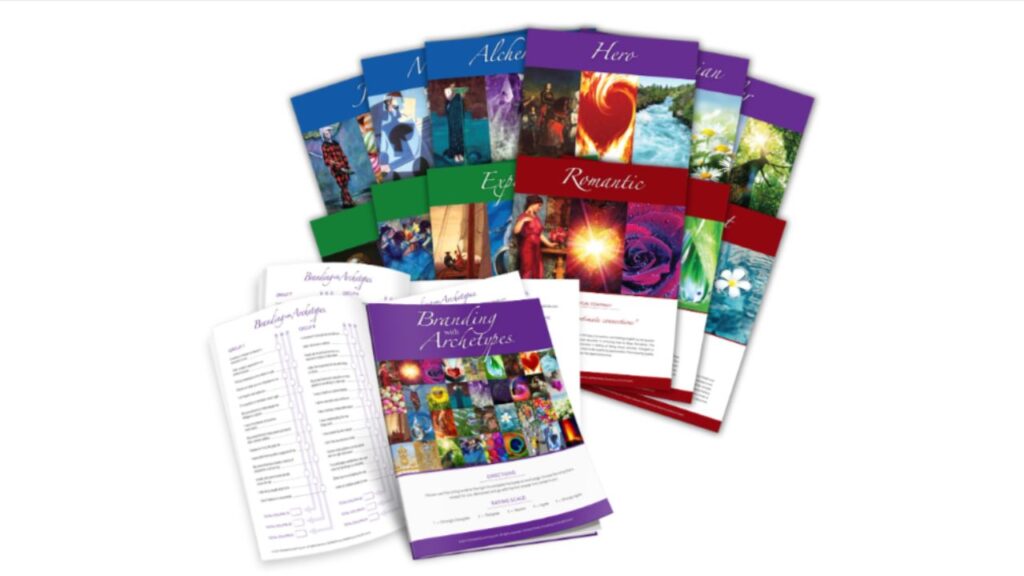 What is Branding with Archetypes®?
Branding with Archetypes® is a coaching method copyrighted by Kendall SummerHawk that I use to support my coaching clients in branding their businesses. It's a system that focuses on the personality of your brand, bringing your work to life in a very human way.
We all know how to communicate with other people, right? (Or, most of the time we do!) Finding your brand archetype is essentially finding your brand personality. If your brand was a person, what or rather who would they be?
This holistic approach helps you to see your branding as much more than just an aesthetic. Your brand archetype covers your brand soul, personality, and passion. It's important inner work that needs to be done behind the scenes before you go out and share that message with the world. In fact, it's so important that it's also a heavy focus of my group coaching programmes!
Building an audience with brand archetypes
Just like you need to know who you are, you need to know who your brand is before you can go out and start building meaningful connections.
When you get clear on your brand archetypes, you'll notice that you consistently attract the right kind of people. People who you actually want to work with. People who enable you to love the work you're doing but also to serve them in the best possible way, because they're the perfect fit for your offer.
You'll be able to identify your brand strengths and build a list of keywords to associate with your brand. Words that your dream clients will resonate with right away. These people will be drawn to you organically as they find themselves resonating with your work the moment they see it. Your marketing becomes a natural process.
Finding connection with brand archetypes
Viewing your brand through the lens of its brand archetypes will enable you to take a human-to-human approach to the connections you're creating with your clients and customers. Your brand will act as a guide, walking your clients through a journey of transformation. It could be a life-changing transformation or a simple spark of joy.
Whatever type of transformation you're pursuing through your business, try to see it as an interaction that takes place between two humans – your brand and your customer. You can use this human-centric approach to consider how you'll find your clients, how you can present your message so that they'll resonate with it, and how to make your brand memorable. Just like you would if you were creating connections in a personal capacity.
Pursuing growth with brand archetypes
All that hard work you've done to harness the power of your brand archetypes and build deep connections means that your audience is going to be resonating with the true purpose behind your brand. They're not buying from you because you're the cheapest or because you're the most convenient. They're buying from you because they feel connected to your brand and what you stand for, so they're going to stick with you for years to come.
Look at Apple. Their Signature brand archetype is the Artist and they're known for their creative designs and pursuing innovation. They're also quite expensive! Yet, they've established a community of customers who are loyal and primed to purchase each new product they launch. Why? Well, they're drawn to Apple's creativity and imagination and want to feel as though they're ahead of the curve.
Or, take my own work. My Signature brand archetype is the Ruler. My clients come to me because they're looking for inspiration and confidence through my business and life coaching. They know that I'm going to support them to take charge and lead in their own lives and that I'm going to draw on my expertise to do that.
When you use brand archetypes to build your business, you're building a business that's primed for long-term sustainable success. It's a business with a foundation that's rock-solid.
Wondering where to begin?
The first step to understanding your business is understanding yourself.
Learn the 7 steps to creating that life you've been dreaming of.
Clarity, focus, and action are waiting for you – download your free Get Up & Go ebook below.
Secure. Private. No Spam - By providing your information, you agree to our Privacy Policy and understand that you can unsubscribe at any time.
Found this post useful? Share it with someone else! Click the buttons below for some useful shortcuts.
Lisa is a mother, a business owner, a founder, and an executive leader. She's been through it all and has come out the other side to thrive. Now she's helping you to do the same! Learn how you can find clarity and support through her services for individuals and organisations.